Enrollment for this course ends when the maximum amount of students is reached, or in

Nov 10, 2023 - Jan 21, 2024
The 8 Auspicious Symbols
Draw the most famous Tibetan Symbols in a course over 10 weeks
Learn to draw these prosperous symbols separately, or in a beautiful mandala (or both!). In an easy to follow step by step process, Carmen will take you along on a special journey into these prosperous symbols. 
Each week a new module with symbol will open up for you, and you will not only learn how to draw them but also learn the deep meanings and teachings behind them and how you can use that in your daily life.
The Eight Auspicious Symbols are not only decorative, but they bring prosperity and attract spiritual and material well-being. 
The symbols are very popular among Tibetan Buddhists. They are depicted in monasteries as well as residential houses. They are also depicted in front of the entrance of temples when high lamas and teachers visit. In 2009, 2014 and 2018, Carmen was asked to paint these symbols to welcome HH the Dalai Lama in her home country The Netherlands.


This course is for you when:
You

want to create the special symbols according to the Tibetan tradition
You want to learn more about thangka art and iconography

You want to experience the meditative aspect of thangka drawing
After this course:
You have drawn your own beautiful Mandala with all the symbols in it, or a set of 8 separate symbol drawings

You know about the deep meanings behind each of the Tibetan symbols
You have meditated and reflected upon each symbol that corresponds to the different aspects of your life, making your path clearer 
...An experience that lasts much longer than the course itself!
Requirements
There are NO requirements for this course, anyone can join. In fact, you don't need to have any drawing experience at all. Carmen will guide and support you personally, and will bring out the best in you on your own level.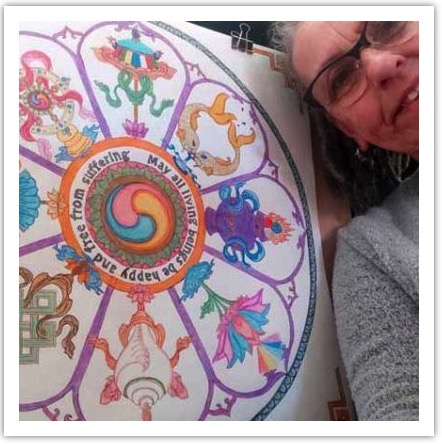 Each week I was looking forward to Friday
Each week I was looking forward to Friday, to be able to start the new lesson again. First delve into the lectures and then work out the drawing, great.
Didn't expect that I would like it that much online, but I did, especially with all the extras.
It was super, thank you.
Wil de Ruiter, Netherlands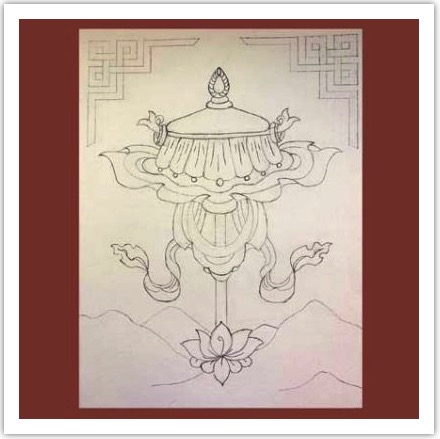 What a great way to focus my mind
It has been an amazing journey with this course. What a great way to focus my mind on the joy of thangka drawing during the time of pandemic.
Carmen guides us through a step-by-step process to compose each drawing. This is my third online course with Carmen. I highly recommend her online thangka courses.
Charlene, USA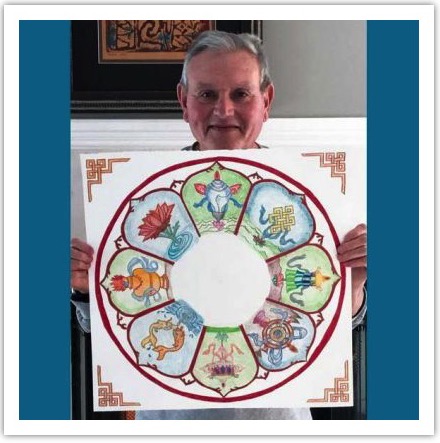 Drawing is still new to me but under Carmen's guidance I've gained confidence and enjoyment.
The class is not only a drawing class but an exciting journey into learning a great deal about Tibetan Buddhism.
Bill, New jersey, USA
Thangka Course Bundle
Learn even more!
In addition to the The 8 Auspicious Symbols course you can learn the secrets of Colouring Techniques:

Sign me up for The 8 Auspicious Symbols only
Secure your course space for The 8 Auspicious Symbols Thangka Art Course. Limited amount of students.
Payments can be done in USD or EUR, as a one time purchase or a 2 month payment plan.
Note: Payments with Paypal can only be done when choosing USD.
Don't forget to check 'I agree to receive instructional and promotional emails' on the next page, otherwise Carmen won't be able to send you information about the course and guide you when needed.

Course Curriculum (each week the next module will be added)
Available in days

days after you enroll

Welcome to the course!