THIS COURSE IS FULL - REGISTRATION CLOSED
THIS COURSE WILL BE AVAILABLE AGAIN IN THE FALL OF 2020.
--------------------------------------------------------
Course availability: May 22-June 2, 2020
Drawing the Buddha Face!
This course is for you when:
You

want to learn to draw a Buddha the traditional and correct way

and are interested in art, Buddhism or meditation

You want to know the deep meanings locked up in Tibetan Buddhist Art

You want to experience the meditative aspect of thangka art
After this course:
You have drawn your own beautiful Buddha Face drawing according to the Tibetan Buddhist thangka tradition

You know more about the history of thangka, as well as the symbolism and iconography of your Buddha Face

You have learned the basics that you need to join other thangka courses (such as the Medicine Buddha Thangka Art Course)
----------
FAQ
How does the course availability work?* You can start this course anytime in the above time frame and come back to it as much as you like in between these dates. This way, Carmen Mensink can guarantee her full commitment to individual guidance for students on the VIP plan. It is also the reason why the course is set to a limited amount of students.
What does this course look like? This course has all the elements of an onsite thangka course, including drawing instruction videos, guided meditation and lectures on symbolism. You will be guided step by step in a methodic structure. In addition you can test your knowledge through the quiz and enjoy the bonus materials that are provided. You don't need to have drawing experience.
How long will it take me to complete this course? The average thangka student will take upto 1 day to complete this course and draw the Buddha Face in B&W. Depending on your preference your drawing can be further worked out (also after the course time is up).
*NOTE: The next possibility to enroll in this course will be in Sept/Oct 2020. Check the FAQ page for more information.
----------
Requirements
There are NO requirements for this course, anyone can join. In fact, you don't need to have any drawing experience at all. Drawing the Buddha Face! course is one of Carmen Mensink's signature thangka courses that she has offered to thousands of students during her many years of teaching, to people of all ages, people with and without drawing experience.
In the VIP plan (as well as the Thangka Course Bundle VIP and Deluxe plans), Carmen will guide and support you personally, and will bring out the best in you on your own level.
----------
The School for Tibetan Buddhist Art offers Thangka Course Bundles for those who want to join both the Drawing the Buddha Face! + Medicine Buddha Thangka Art Courses. The course bundle plans save you money and offer you lots of extras.
Read further under the testimonials to learn about the price plans for just the Drawing the Buddha Face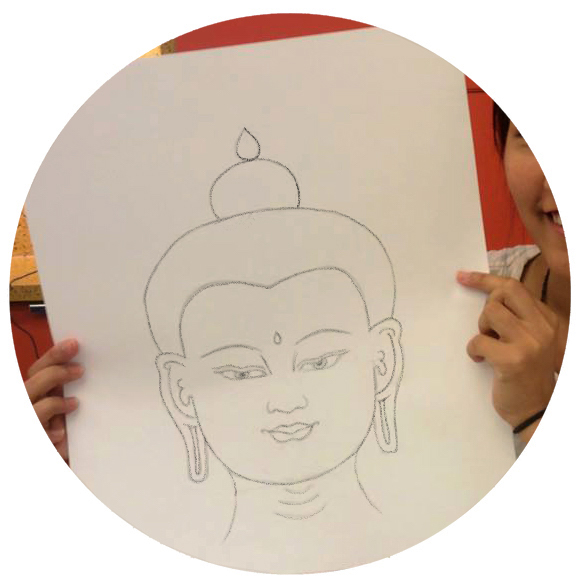 "Carmen leads students gently into the subject matter in a systematic, organised matter.
I loved the combination of lectures, meditation and drawing/painting.
I always find it interesting to know about the history, symbolism, and more importantly the benefits of the drawing with regards to blessing others."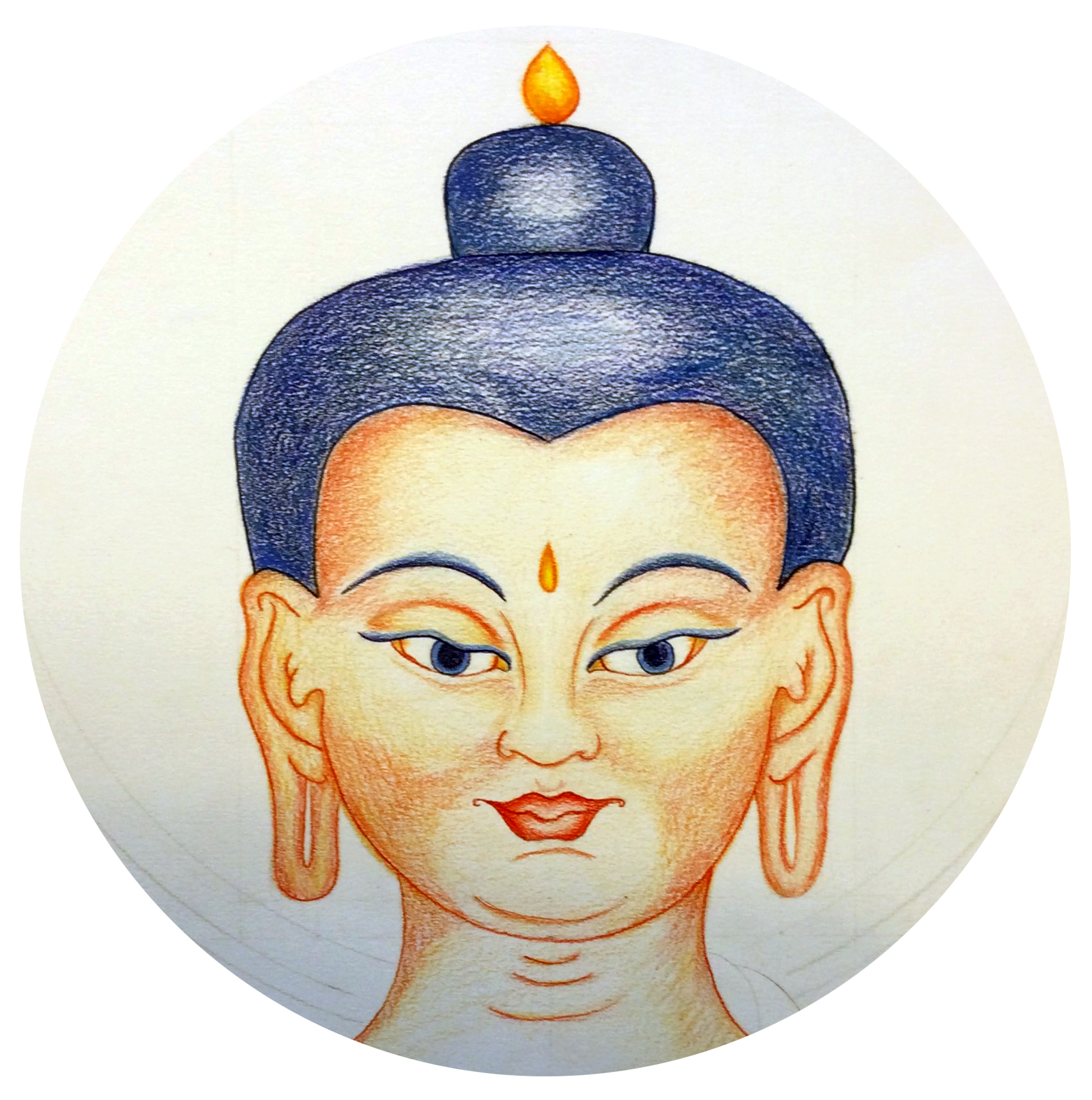 "The course has given me a lot.
The drawing / painting of the Buddha face has a powerful effect.
I keep on making more, I'm working on my fourth now. Nice to try out different sizes and different materials.
I want to thank you again for all the beautiful things that I've experienced through you."
Gurie Bosman, The Hague, The Netherlands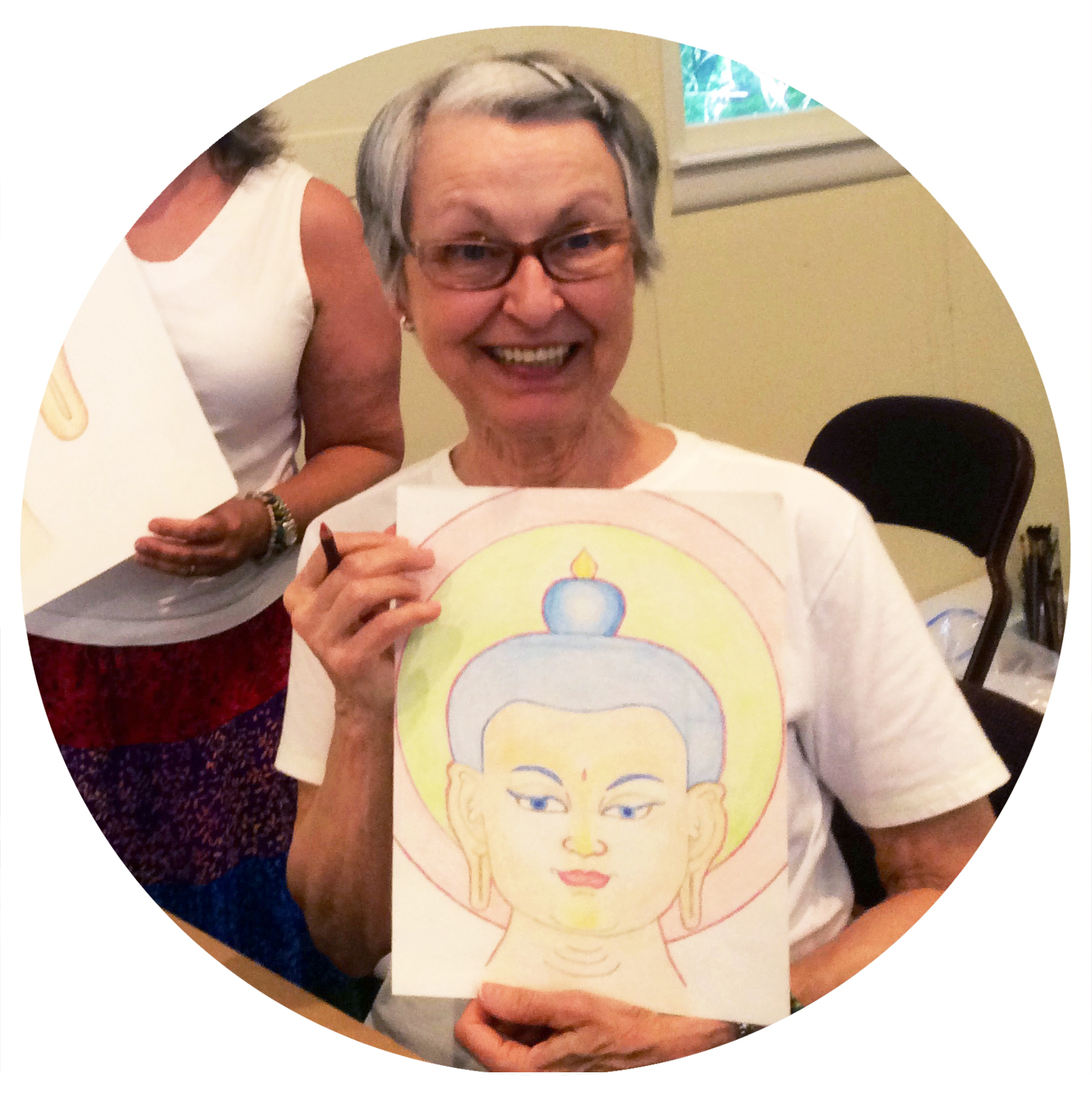 "From word one Carmen brings her skills as an artist to the heart of her teaching. I felt her generosity and compassion with me, a very beginner art student.
Her instructions are clear and concise. I know the tools to use to draw the Buddha at home. I know the beauty and sacredness of the symbols I see.
Carmen is an inspiration to me and I will seek opportunities to study with her again."
Diane N., Pennsylvania, USA
PLANS
Drawing the Buddha Face!
between May 22-June 2, 2020
The two course plans are based on the amount of personal guidance and support by Carmen during set course dates:
BASIC - Course Only / $ + VAT
You provide for the art materials and printouts yourself

No individual guidance. Questions can be put in the discussion groups that are open to all students and that Carmen answers in general
VIP - Personal Approach / $ + VAT
You provide for the art materials and printouts yourself
You can

contact Carmen privately

through the School with all your questions about your artwork
You can send Carmen pictures of your artwork to let her check your progress
Through this personal guidance Carmen will make sure that you will get the best out of yourself
Want all art materials and printouts needed in this course to be sent to you? Then choose the DELUXE Thangka Course Bundle with Private Teaching Approach, with the Material Pack and the Medicine Buddha Thangka Art Course included.
FAQ
Why can I step in only on certain dates throughout the year? Why are these courses available for only a limited period of time? How long does it take for an Envelope with grids/handouts or a complete Material Pack to reach me? Check the Frequently Asked Questions
Course Curriculum
Available in days

days after you enroll

Welcome!
Available in days

days after you enroll

Module 5: Dedication Prayers & Wrapping up
Available in days

days after you enroll

BONUS MATERIALS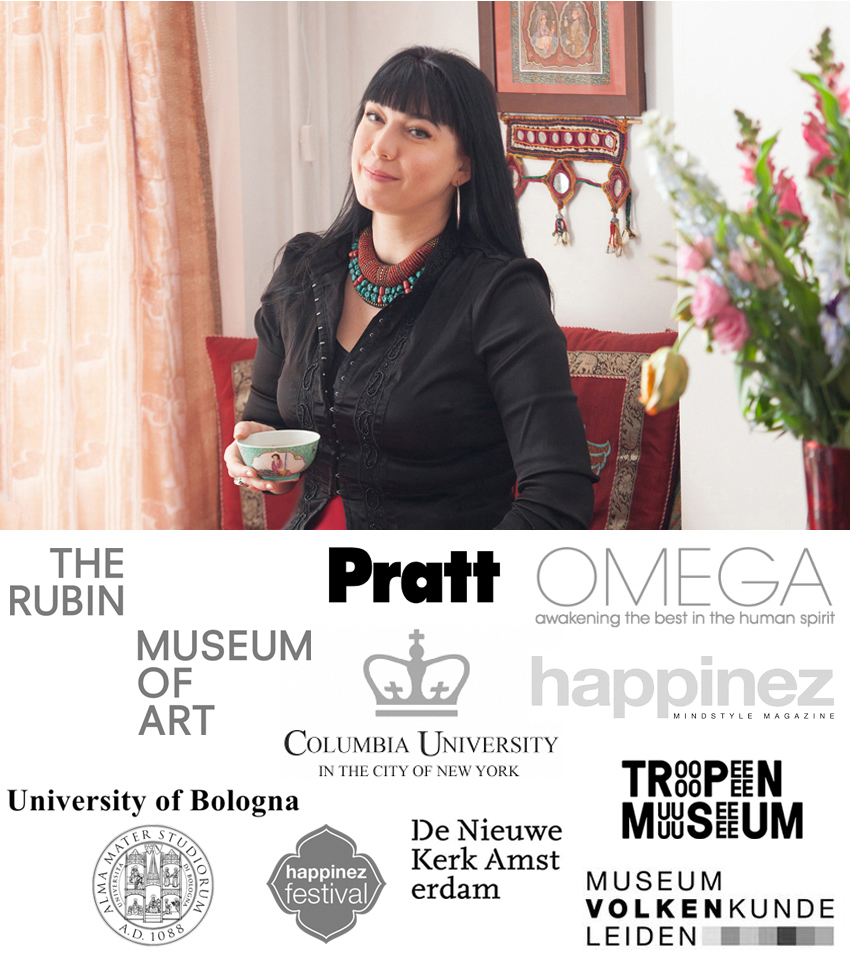 Meet the instructor
Carmen Mensink is the founder of the School for Tibetan Buddhist Art. She is an internationally renowned painter of thangkas, the traditional Tibetan scroll paintings of Buddhas and mandalas. 
She is based in Amsterdam, the Netherlands, and has nearly two decades of experience in teaching this beautiful art, as well as Buddhist meditation and philosophy, at museums, universities, and Buddhist Centers around the world.
Through her courses, Thangka Talks videos, articles, and private thangka teachings, Carmen has guided thousands of people along the Buddhist Art & Dharma path.
Carmen has been featured in dozens of publications and has been teaching at places including the ones on the left.
She is also being asked to work on related Tibetan art forms, including large floor paintings of the '8 Auspicious Symbols' to welcome the Dalai Lama in the Netherlands in 2009, 2014 and 2018. For more info go to www.tibetan-buddhist-art.com